Stroll into any Las Vegas casino and you'll be surrounded by chips of all shapes and sizes. However, in the same way there's water everywhere and not a drop to drink while you're floating on the ocean, this sea of casino chips won't hit the spot when the hunger pangs take hold. Fortunately, Vegas is a town where excess comes as a standard and nowhere is this truer than the buffets that line the Strip and beyond.
Covering all cuisines and all budgets, the best buffets in Las Vegas are the perfect way to fuel up before you next big gaming session. Naturally, with dozens of delicious places to feed your face, it can be tough to make the right choice. We've followed our own advice to look beyond the casino floor and are here to tell you where you should be eating as much as you can in the city of sin.
1. The Wynn Buffet
When it comes to the best eateries in Las Vegas, the Wynn is full of class, and its buffet is no exception. In fact, if you check out the critics on TripAdvisor and other sites, the Wynn buffet has been voted the best in Vegas on many occasions. So why does it offer the most impressive spread in the gambling capital of the world?
Well, for starters, the opulent design of the building itself is a feast for the eyes, packed with floral arrangements, and shiny marble. Once you've dined on the décor, there are 120+ dishes for you to sample, including stacks of crab claws, fresh sushi and the exact spaghetti recipe used by Frank Sinatra's family. If that isn't enough, there's an entire room filled with 40 different desserts for afters.
2. Sterling Brunch at Bally's
Photo: www.vegasmagazine.com
The quantity over quality approach might work in some places, but it certainly doesn't cut the mustard in Vegas. In fact, to survive in Sin City, you have to offer something a bit special. That's what Bally's Sterling Brunch does. Serving customers for more than 30 years, this place combines elegance and gluttony in a neat little package. Put simply, the Sterling Brunch is all about the finer side of dining, but with endless portions.
Only open on Sundays, this place has everything from Alaskan king crab legs, lamb, lobster tails and fresh-shucked oyster to endless glasses of Perrier-Jouët Champagne. Yes, it costs around US$90 per person, but where else can you eat like royalty without worrying about portion sizes?
3. Caesars Palace Bacchanal Buffet
Photo: www.travelfoodanddrink.com
Renovated in 2012, Bacchanal is up there with the very best in Vegas. In fact, some would argue that this place is better than the Wynn when it comes to variety and quality. Although the décor is slightly less ornate, you'll find nine different kitchens, each boasting its own unique theme. Offering dishes made to order specially for you, this place really is a sight to behold.
At the last count, Bacchanal Buffet had more than 500 dishes on offer during a typical evening session. For us, the most impressive thing about this buffet, other than the fact you can sample food from virtually every corner of the world, is that you can have a soufflé baked to order. Yum!
4. Wicked Spoon at the Cosmopolitan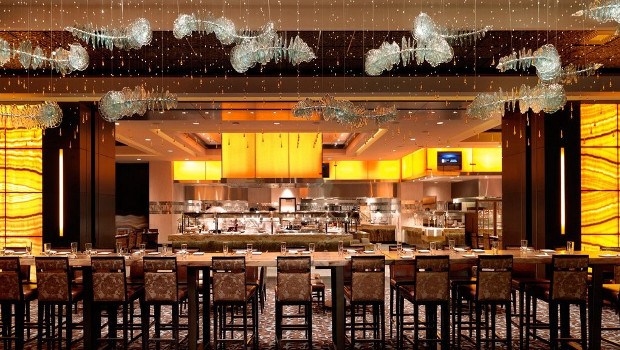 For something a little meatier but ultimately still refined, the Cosmopolitan's Wicked Spoon is perfect. Unlike its peers, this place isn't about piling as much as you can onto a plate. Sure, there's tons of food to go around, but the idea at this place is to savour the flavour a bit more and not try to split the stitching in your clothes.
To get things started, you can get two-for-one on cocktails before you dive into a delicious array of meats marinated and seared to perfection. From bone marrow creations to duck tacos and more, Wicked Spoon is a meat-lover's paradise and well worth a visit for brunch or dinner.
5. The Feast at Green Valley Ranch Resort
While eating near the glitz and glamour of the top casinos makes your meal a lot more enjoyable, there are a few hidden gems away from the bright lights of the Strip. The Feast at Green Valley Ranch is one of them. Known as the locals' favourite, this place offers Strip-quality food at off-Strip prices. Indeed, unlike the buffets at the Wynn and Caesars where you'll be paying upwards of $40 per person for dinner, The Feast has prices starting from US$7.99.
That's right, for a breakfast buffet serving everything from American classics to Great British fayre, this place is perfect. What's more, you can sample treats from countries as far-flung as Mongolia for just US$18.99 when you visit the Green Valley Ranch for dinner. This leaves you with plenty of money to spend on your favourite casino games!